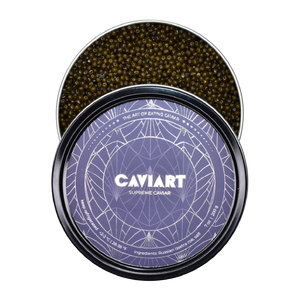 Caviar Delivery
Diamond Ossetra Caviar, Caviart Supreme Sturgeon Roe | 7 oz
Sale price Price $325.00 Regular price
Tax included.
Shipping
calculated at checkout.
7 oz / 200 g 
 
Diamond (Russian) sturgeon (Acipenser gueldenstaedtii), also known as the diamond sturgeon.

The fish: The wild ones can be found in the Caspian Sea and the Danube River.
The species normally matures in the 10th ~ 11th year, and can live up to 50 years and reach over 20kg. 

The caviar: is produced from roes of mature Acipenser gueldenstaedtii of over 11 years of aqua culture. Its color can be brown-grey or light grey. The roe diameter is over 2.5mm. The roes are firm and will burst with pressure in the mouth. It has a light aroma of nuts.

Flavor: Creamy, Nutty, Slightly Salted

Species: Acipenser gueldenstaedtii, also known as the Russian or Diamond sturgeon. Imported.

Color grade: Silver-gray to dark greenish gray
________________________________

Shelf life           4 - 6 weeks unopened, refrigerated

Storage            refrigerated only -2 +2 °C | 28-38 °F
________________________________

Shipping          overnight with UPS Next Day Air or USPS Express

Package          insulated box with ice packs
GUARANTEED NEXT DAY DELIVERY if order placed Monday - Thursday before 1pm EST. 
We ship all caviar in a thermo-secure box with ice packs to preserve freshness. Once the shipment arrives, remove the jar from the box and store in the coldest part of your refrigerator, until ready to enjoy. Unopened, caviar will remain fresh for up to 60 days. Once opened, enjoy it during 5-6 days.
We have two mail services UPS and USPS.
Be careful when you choose the service you prefer.

Also, consider that long-distance shipping can be delivered in two business days. We are located in Los Angeles, California. So the East Coast, Hawaii and other distant locations will take two business days for shipping.

NOTE: UPS and USPS are closed on Holidays. If placed after cut off, orders will ship out on the NEXT BUSINESS DAY.
Freshest Premium Caviar on the Market. Medium dark grey pearls, smooth & creamy, very fresh (NON-PASTEURIZED). Excellent for a caviar service or as a garnish. This is the TRUE roe, contains no preservatives.
All caviar is packed to order to ensure maximum freshness of this delicacy for your enjoyment. 1oz will serve 2 people.

Buy the most fresh caviar on www.caviardelivey.us